July 14th, 2010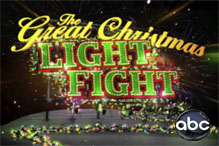 Brady Connell Wraps ABC Primetime Holiday Special
Watch ABC's "The Great Christmas Light Fight" - Mondays at 9pm, December 9, 16 and 23! Brady Connell served as Executive Producer & Showrunner for this 5-part ABC holiday special. With judges from "Extreme Makeover: Home Edition," families compete to show their love of Christmas with elaborate light displays that the entire community can enjoy.
Jim Jusko develops large-scale competition series for Chinese television.
Jim Jusko (along with Connell) recently served as development Executive Producer creating one of the most ambitious competition-elimination reality series ever planned for Chinese Television. Production is scheduled for 2014 in China.