July 14th, 2010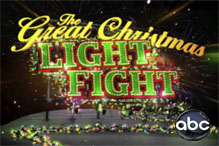 "The Great Christmas Light Fight" gets 2nd season pick-up.  ABC adds a 6th hour to the budding franchise, plus adds the spin-off "The Great Halloween Fright Fight!"
Brady Connell will once again serve as Executive Producer & Showrunner for the successful holiday limited series.  This year it is in association with Base Camp Films, and with the addition of the halloween spin-off, both shows have the prospects of becoming holiday television traditions.  In both shows, families from across the country compete to show off their elaborate home displays.
BCF develops large-scale competition series for Chinese television.
Jim Jusko recently served as development Executive Producer creating one of the most ambitious competition-elimination reality series ever planned for Chinese Television. Production is scheduled for late 2014 in China.  BCF has also been engaged to develop a formatted docu-reality series for China.
AMC AND DISCOVERY DEVELOPMENT DEALS
BCF is in active development on an edgy reality series for AMC, and on a large scale survival competition series for Discovery set for production Jan 2015.