July 14th, 2010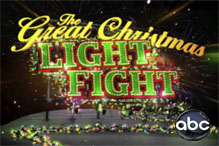 THE GREAT CHRISTMAS LIGHT FIGHT
The latest season of ABC's The Great Christmas Light Fight airs this December, continuing its decade-plus run as an annual family holiday tradition. Produced in association with Base Camp Films, Connell serves as Executive Producer/showrunner and director for the hit Fremantle series.
HULT PRIZE FOUNDATION COMPETITION SERIES FOR SONY
Base Camp Films has developed a groundbreaking entrepreneurship competition series for Sony Pictures Television. Based on the Hult Prize Foundation international competition in association with former President Bill Clinton, it awards $1 million to the team that develops the best start-up company addressing a global need.
PROJECT FIRELIGHT
Jim Jusko leads BCF's new initiative to transform digital healthcare media via first-person, patient-led video content that empowers, inspires and drives better health outcomes.
COMPETITION SERIES FOR CHINESE TELEVISION
In association with LIC China, Base Camp has developed one of the most ambitious competition-elimination reality series ever planned for Chinese Television.